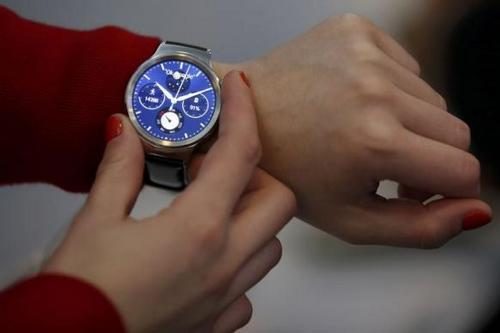 Smartwatch gadget seems to be increasingly attracted attention. Either because of their ability or because of the trend to appear sophisticated. However, not many smartwatch that can actually deliver the extra features. Currently, it can be said there are only a handful of smartwatch worthy of your concern.
Basically, smartwatch outstanding and popular is a smartwatch that still must be connected to your smartphone. All notifications and installation is done from a smartphone. So, this time smartwatch more towards renewal or extension of your smartphone
Differentiate: Smartwatch vs Fitness Band / Watch
Many thought that a clock that can display SMS and record how many steps you are a smartwatch. May be true. However, with increasingly sophisticated smartwatch this time, the difference with the fitness band / watch is already becoming clear.
Fitness is a wearable band that aims to display your fitness parameters. Starting from the number of user steps, calories burned each day, until (the most advanced) to measure heart rate users directly.
Smartwatch is a clock that has the extra computing capacity. Capabilities such as that owned by Fitness bands could be incorporated into the smartwatch. However, the main difference is that the abundant applications that can be installed into it. Starting from the chat application, SocialMedia, recording, even until the application for browsing, watching movies, playing music, answering phones, games, and other applications that can be added easily.
Worth a Look: If the Abundant Application Support
Support abundant application will certainly make smartwatch increasingly "smart". Therefore, only a smartwatch that has support applications in large quantities and has a rapidly growing hopes will be a smartwatch worthy ogled by consumers. Because the application support must be very dependent on the OS, so that the OS will be the determinant of the appropriateness of the smartwatch to glance.
Pebble
Based smartwatch Pebble Smartwatch is the most successful in the early development of modern smartwatch. Using a type of e-paper screen, and consume low power processor smartwatch comes with excellent battery life (5-7 days). However, this processor which inhibits the type of applications that can take advantage of Pebble. Developed to the use of e-paper screen colored, Pebble now increasingly receding demand.
Apple Watch
Coming from the best-selling smartphone manufacturer in the world, Apple, of course, this smartwatch obtain a very good response in the market. Appearance boxy smartwatch is dazzling many iPhone users. Performance is certainly comfortable use of the iPhone. The number of available accessories was abundant. Display screen is very good, and its features was complete, as far as the heart rate sensor. Perhaps the weakness of the smartwatch is situated on two things only:
Apple watch is only compatible with iPhone
Power consumption tend to be wasteful. Users reported the use of an average of 24 hours
.
Android Wear
Indeed, there is no clock to the name Android Wear. However, this is the OS Android Wear smartwatch behind many well-known in the world, among which are:
Moto 360
Moto 360 2nd Generation
Moto 360 Sport
LG G Watch
LG G Watch R
LG Urbane
ASUS ZenWatch
ASUS ZenWatch 2
Fossil Q Founder
Tag Heuer Connect
Huawei Watch
Samsung Gear Live
Sony Smartwatch 3
Casio WSD-F10
Nixon The Mission
About 2 years old, Android Wear smartwatch comes with a range of very varied. Starting from the most innocent like LG G Watch the first, the most elegant like Tag Heuer and Fossil Q Connect Founder, until that is ready for extreme conditions such as Casio WSD-F10 and Nixon The Mission. Therefore, I wonder if Android Wear-based smartwatch today have a myriad of applications that can be obtained through the Play store.
One of the unique Android Wear is its ability to connect to Android smartphones and the iPhone.
Android Wear: Alert Smartphone in Wrist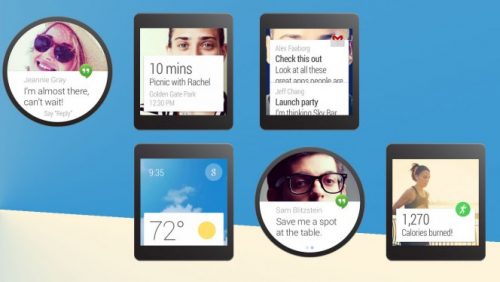 All notifications are generally read on smartphones will appear on the connected Android Wear smartwatch. Calls, SMS, WhatsApp messages, calendar events, and various other notifications can be presented directly on the wrist without opening the smartphone.
Android Wear: †Unlimited Display
Android Wear smartwatch display based course uses display screen. You have the freedom to determine the appearance according to your preferences. This view is commonly referred to as Watch Face. Generally Android Wear smartwatch will come with at least a dozen to dozens of different watch face. However, you can do a customization watch face itself. If it feels less, there are some applications such as FaceRepo, Watchmaker, and the like which permit more detailed customization. You can even use the watch face free provided by the community of users of these applications by the hundreds, probably even thousands.
Android Wear: Measuring Centre
With all the Android Wear smartwatch you can at least measure the number of steps you. Applications like Google Fit will lengsung count, and you can use your Google account to take advantage of this calculation on all other devices. Of course, some with Android Wear smartwatch even been equipped with a heartbeat sensor which can make your fitness measurement accuracy becomes increasingly well.
Android Wear dan Google Maps
With all the Android Wear smartwatch you can use the Google Maps app. You can see immediately where you are now Maps turned on or can follow the directions specified on the Google Maps app on your smartphone. So, you do not need to spend a smartphone while looking for directions or seeing locations.
Android Wear: Operate with Sound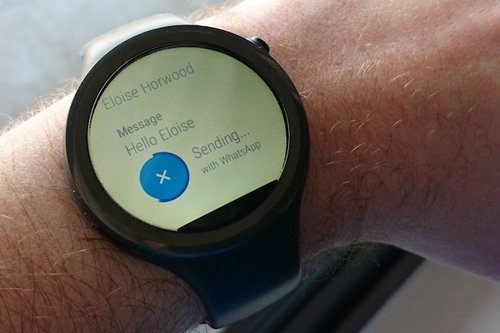 Availability of microphones on all Android Wear-based smartwatch lets you enter commands with your voice. Starting from searching with Google, turn on the application, to make notes and even respond to messages from SMS and WhatsApp. This makes Android Wear users rarely need to pull out the smartphone to answer a short message. Of course, all the Google search function can also be used, such as currency conversion, for example.
Android Wear: Wide Range of Applications
The interesting thing is the Android Wear smartwatch applications. The average application for Android Wear will be used on all smartwatch that use it. For example, applications such as WhatsApp will be used on all smartwatch androidwear. You simply install WhatsApp on smartphones, and the version of WhatsApp for Android Wear will be directly installed on Android Wear-based smartwatch that connects to your smartphone.