Next Unit Of Computing or can be shortened to NUC is a product line of Intel desktop PC with a mini size. It is still hard to believe if a desktop PC with a normal function can be packed in a box with only the size of your palm adults. Not until there alone, use of an Intel ULV (Ultra Low Voltage) series made Intel NUC is very economical in the use of electrical power and is able to bekeja with lower labor tempeatur so it does not require a cooling system to measure "bongsor". The performance of the sector, a number of Intel NUC reviews from our previous shows if the desktop PC product is not designed for heavy computing process although not impossible to do so. However, if the activity with your desktop PC is relatively light and not too heavy, Intel NUC would be an attractive option compared to conventional desktop PC.
Continuing its predecessor and coincides with the presence of 6th Generation Core i processors, Intel NUC product did not want to miss for expansion. Intel ULV processor-based architecture Skylake Series is now believed to be the brains behind the product line smart Next Unit Of Computing. Of course, the latest generation of mainstream class platform from Intel is ready to present a higher capacity than pandahulunya.
Intrigued by the ability of the product line Intel NUC with 6th Generation Core i processors in it? In this article NUC6i3SYK Intel NUC will be the debut of our review of the Intel NUC "Skylake".
Spesifikasi Intel NUC NUC6i3SYK
| | |
| --- | --- |
| Processor | Intel Core i3 6100U (Base 1,3 GHz | 15 Watts TDP) |
| Motherboard | FCBGA1356 Socket with Intel Skylake-Y PCH |
| Memory | Support Up to 32 GB 2133 MHz SO-DIMM DDR4 (1,2 V) |
| Graphics | IGP: Intel HD Graphics 520 |
| Storage | M.2 Storage |
| | Card Reader (Support Up to SDXC UHS-I) |
| Wireless | 802.11a/b/g/n/ac & Bluetooth V4.1 (by Intel Wireless-AC 8260) |
| USB 2.0/1.1 | 0 |
| USB 3.0/2.0 | 2 (Front) + 2 (Rear) |
| eSATA/USB Combo | 0 |
| Display Port | 1 (mini Display Port) |
| HDMI | 1 |
| DVI | 0 |
| D-Sub | 0 |
| Ethernet/RJ-45 | 1 (by Intel I219-V) |
| Audio In/Out | Headphone Microphone Combo Jack (Front) |
| Optical Drive | Not Available |
| Operating System | Tested with Windows 10 |
| Dimensions (mm) | 115 x 111 x 32 (Width x Depth x Height) |
Intel NUC NUC6i3SYK offer privileges to use the processor with the most advanced CPU architecture from Intel today. Mini desktop PC with the body is powered Intel Core i3 6100U CPU-based architecture Skylake. U indicates the incoming class processor ULV (Ultra Low Voltage) with TDP (Thermal Design Power) of 15 Watt. Core i3 6100U is prosesordual cores and Hyper-Threading technology equipped so that they can work on four computing processes simultaneously in one pass. The processor has a value base clock speed of 2.3 GHz without Turbo Boost 2.0 technology equipped.
Intel uses a motherboard model with socket FCBGA NUC6i3SYB 1356 and bebasiskan chipset Skylake-Y.
Intel NUC NUC613SYK testing using two pieces of memory / RAM Samsung DDR4 type (1.2 Volts) with a speed of 2133 MHz and a capacity of 16 GB with dual channel configuration.
Testing NUC6i3SYK Intel NUC is also our test storage components using the Intel SSD 530 Series with M.2 connectivity and a capacity of 180 GB.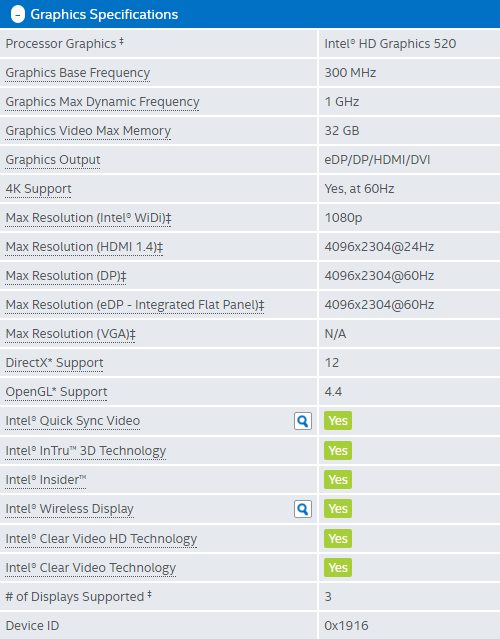 Core i3 6100U include an integrated graphics card based on the Intel HD Graphics 520 9. Gen Graphics Processor Graphics card is equipped with 24 EU (Execution Units) and work on a base clock speed of 300 MHz and higher can rise up to 1 GHz thanks to Turbo technology Bost 2.0. HD Graphics 520 supports up to 32 GB memory capacity or memory in accordance with the maximum support Core i3 6100U itself. Support maximum image resolution is 4096 x 2304 pixels with tingkatrefresh rate of 60 Hz. Of course DirectX 12 API support, Quick Sync, along with Wireless Display are also found in this integrated graphics card.